Greece is a country offering countless of possibilities for your holidays whether you are travelling on a budget seeking for a bed and breakfast hotel, for romantic escapes, business, leisure or family breaks or for a one-of-a-kind luxury vacation.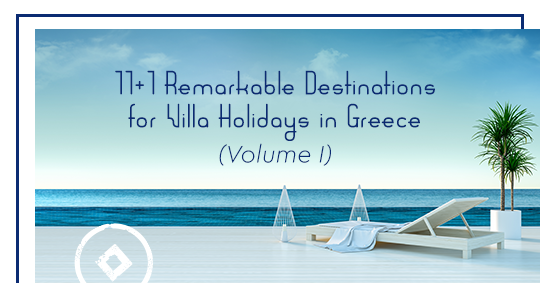 We are here to share with you 11+1 of the most incredible destinations for your villa holidays in Greece so sit back and relax as you are about to find the luxury villa you've been searching for.
1. Zinas Villas in Mykonos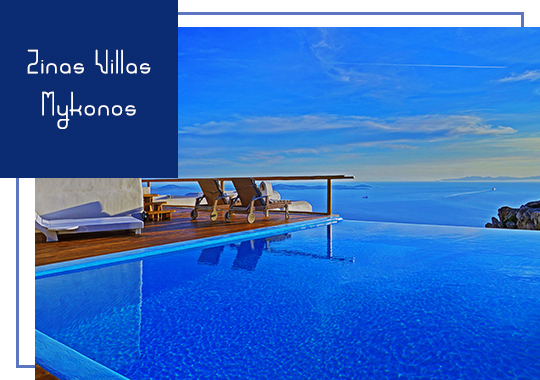 Beginning with Mykonos, the island of the trendsetters, film stars and celebrities, we have found for you an amazing collection of private luxury villas in Greece that give a new meaning to the notion of private indulgence. Of course, we are referring to Zinas Mykonos Villas in the picturesque area of Kastro in Mykonos. Utterly breath-taking, Zinas Mykonos villas in Greece with private pool offer an outstanding range of plush comforts, luxurious amenities and decorative details inspired by the designer himself. Set on top of the hillside, amidst the sea and sky, all Zinas Villas offer panoramic vistas to the eternal azure, premium concierge services and anything else you may desire. Just say the word, and your wish will be granted!
See more here: www.zinasvillas.com
2. Villa Katikies in Santorini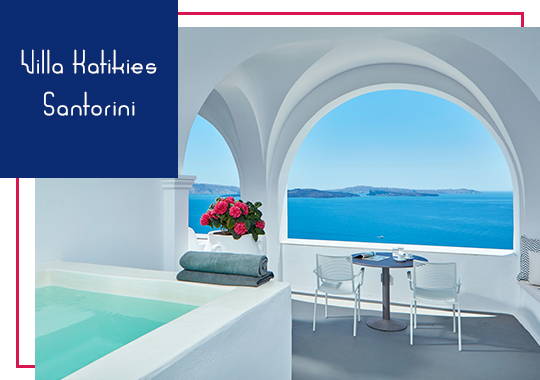 Moving to the island of the awe-inspiring sunsets and the bedazzling Caldera, we welcome you to step into the legendary world of Katikies hotels and Villa Katikies in Oia Santorini. To entice your senses with a series of indulgences and open your eyes to the endless azure of the sea while making use of the exclusive concierge services offered by the members-only Klepsydra Club. Enjoy your stay at one of the finest luxury villas in Santorini and surrender to the pleasures of premium luxury.
See more here: www.katikies.com
3. Minos Beach in Crete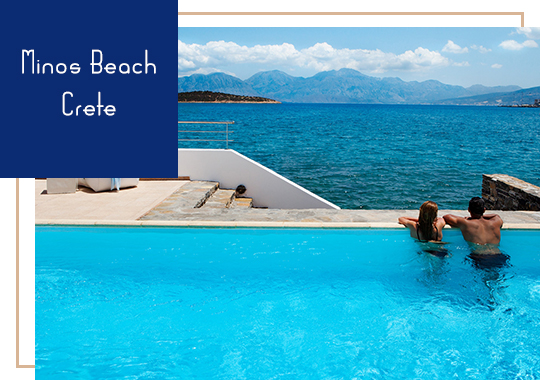 Right on the water's edge in Agios Nikolaos in Crete, Minos Beach Art hotel will steal your heart right from the start. Get ready to unwind in the lap of luxury, savor exceptional gourmet flavors at awarded restaurants, unwind with an amazing range of wellness services and experience the epitome of luxury beachfront living in Crete while staying at your own luxury villa in Crete.
See more here: www.minosbeach.com
4. St. Nicholas Bay in Crete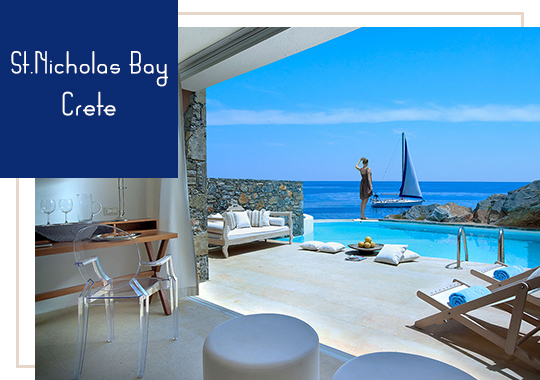 Enjoy a dream life in an oasis of elegance at the private beach resort hotel St. Nicholas Bay only a mile away from the picturesque town of Agios Nikolaos. Select one of the most impressive villas to rent in Greece and follow the lifestyle of your liking. With numerous options for dining, wellness, business, leisure and pleasure you are about to hold luxury in the palm of your hand.
See more here: www.stnicolasbay.gr
5. Daios Cove in Crete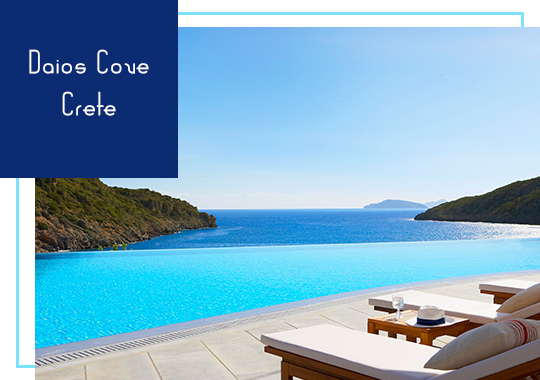 Hide away in a pristine cove, where luxury meets refined style right on the water's edge. Fully unwind in an environment of high-aesthetics and miraculous views to the sea, a place where all your wishes are realized to the fullest and every dream is awakened. Select for your stay one of the best luxury villas in Greece and experience a holiday unlike any other.
See more here:  www.daioscovecrete.com
We have seen 5 of the best destinations for villa holidays in Greece to add to your list of favorites. Stick around as we are about to offer you 7 more.