The heat of the summer is reaching its peak and you can only lie on the beach for so long! Have you thought of taking advantage of this spare time to work out your muscles and enjoy the sea at the same time?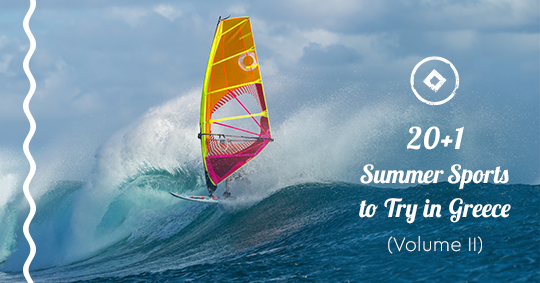 Let's take a look at the rest 10+1 best summer sports to try in Greece.
11. Surfing
You will need exceptional wind conditions and safe seas to enjoy this sport. Greece is a country offering the perfect summer winds, also known as meltemia that will help you guide your surf. Ready to try it out?
12. Canyoning
Follow the course of the water into gorges and natural slides above the rocks and through waterfalls. An amazing sport combining aspects of swimming, mountaineering, ascension and speleology. Do you have what it takes to explore the most wondrous places on earth?
13. Canoeing
Paddle away with a single-bladed paddle through the most astonishing landscapes of Greece. Perfect for every age and ability it will give you a story to brag about on your return.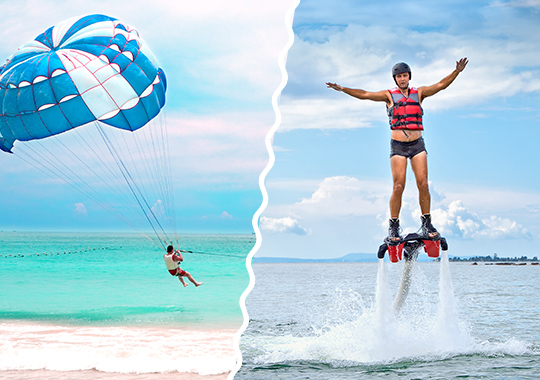 14. Parasailing
Let a professional teach you all the basics and then the wind and speedboat will lift you up to the sky. What an amazing way to discover the wondrous seaside of Greece from high above.
15. Tubes & Bananas
Whatever your age, your style or skillset if you would like to have fun during your holidays then make sure you ride a tube or a banana. It is the perfect way to leave all your worries behind.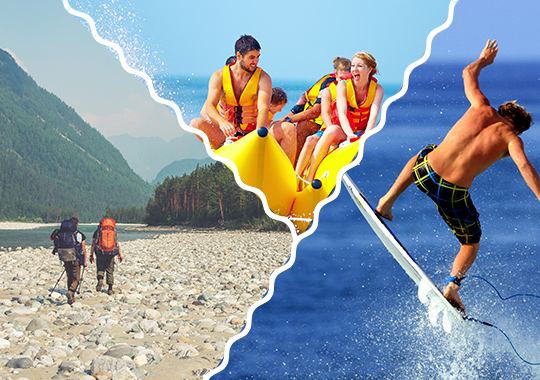 16. Pedal Boats
Whether you simply want to pedal along the shore at your own pace and convenience or pedal away with your family and friends this is the easiest and most convenient way to do so. Simply get on board and start pedaling.
17. Paragliding
Take a free jump off a mountain when the winds are good and fly over the sea. You are now on your own as no vehicle is attached. All that is left for you to do is guide yourself safe onto the surface. Happy landing!
18. Rafting
Picturesque, breath-taking, the rivers of Greece are worth exploring inch by inch. Rafting gives you the opportunity to discover the beauties hidden alongside the rivers on an inflatable raft either on your own or with the guidance of a professional and of course the company of your dearest friends and family.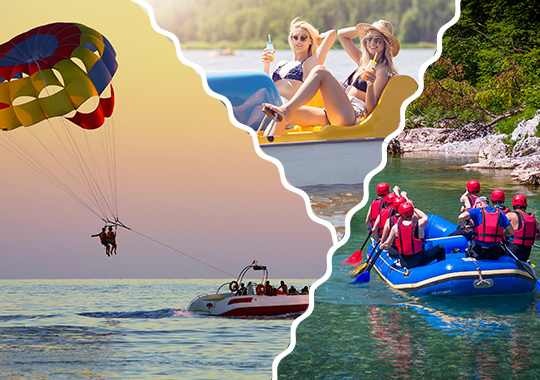 19. Flyboard
Flyboard is quite new and quite terrifying to watch. But if you really feel like lifting your adrenaline to new heights then hire a professional to teach you the basics and secret techniques and get ready to fly!
20. River Trekking
Swim, trek and climb along a river. What a fun and exciting adventure for the entire family or a group of friends. There are so many routes to follow that you can simply pick the one that most suits your skillset and get ready to discover the natural treasures of Greece on foot.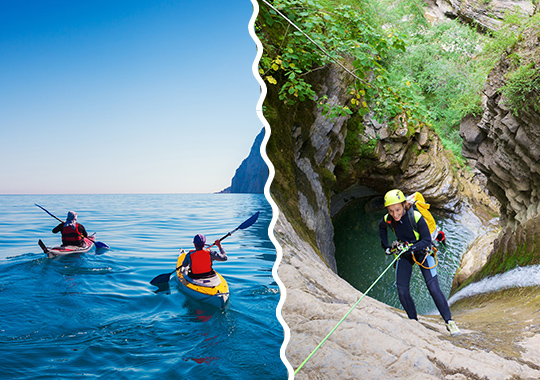 21. DIY Sailing (homemade catamaran sailboats)
If now you are visiting Greece for a while there is also another option to consider. Build your own sailboat and then test it in the open sea to see how far out you can make it from the coast.
These were our suggestions for the 20+1 summer sports to try in Greece. Are you ready to test your limits whilst enjoying the crystalline waters of the Greek Seas?