Cycladia is on the road throughout the summer visiting various places all over Greece. And Santorini Island is always among our preferred destinations. Once again we came to the conclusion that whenever you visit a place in Greece, you will always have new things to discover and new experiences to enjoy.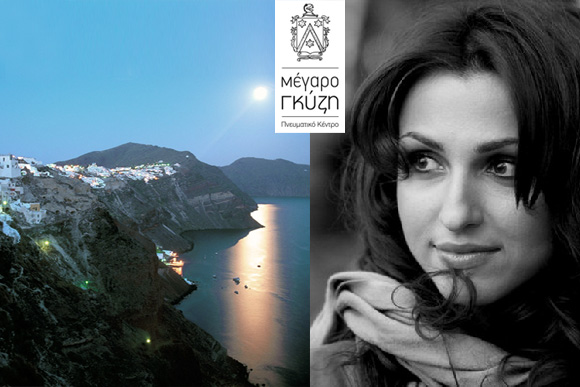 Megaro Gyzi is well-known for people visiting regularly the volcanic island of Santorini and, also, a very interesting venue for those who want to have a cultural touch during their holidays. Megaro Gyzi is the island's cultural center, found in the heart of Santorini, Fira, which, throughout years, for years has managed to promote the Cycladic culture, the island itself and its artists, taking advantage of a very interesting museum area constantly refreshed and renewed with new exhibitions & events. But above all, with this season's events, it has succeeded in entertaining once again all the visitors that have attended the festival, which has been an interesting companion to all the people who visit it in the summertime since 2007.
It had been years since we last visited Santorini during the month of August and had almost forgotten all about the magical ambience and the great performers & artists hosted in the festival. So, this year, it was about time to visit again and share this unique experience with you. On Thursday, August 4, we had the pleasure to attend to a dreamy concert of Zoe Papadopoulou, accompanied by Sasha Papalambrou at the piano…they both offered us such an, unforgettable music night!
Zoe Papadopoulou has proved throughout her notable career that she has a unique talent, a wonderful voice and, for the past few years, she has accomplished to take us on great music trips with her songs. The time has come to introduce her to you and do not forget… next time you travel in any part of Greece, do not hesitate to attend at least one cultural event. It is a unique way to get to know this beautiful place, its friendly and hospitable people and authentic Greek culture.
Megaro Gyzi continues its events with exceptional performances and exhibitions till August 28.