Camping offers you the perfect opportunity to live close to nature, to spend some quality time with your beloved ones and socialize with strangers. It is the perfect time to free your mind from any worries and agendas and simply go with the flow.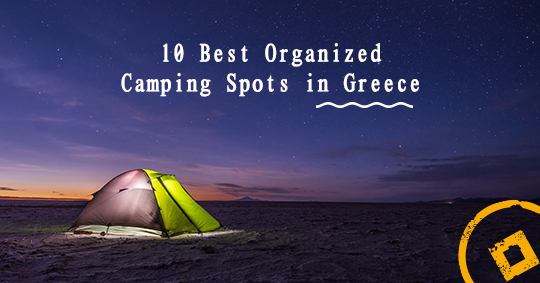 Many people think of camping as a rough sport, as an adventure in the wilderness where you have to escape the predators, survive in hazardous conditions and lose all sense of hygiene. Well, this is certainly not the case as there are many exceptional fully organized camping spots that offer all necessary amenities for a truly relaxing stay and at a very reasonable price. Let's take a closer look at the 10 best organized camping spots in Greece.
1. Simos -Elafonisos
Situated only 4 km away from the charming little village of Elafonisos, Simos beach is a haven on earth that will light up your senses with its shimmering emerald waters and fine sand. You can rent a shaded tent or a bungalow, savor delicious dishes at the restaurant, quench your thirst at the bar and purchase anything you may need from the mini market close by.
Tel.no.: 0030 27340 22672 – 22 057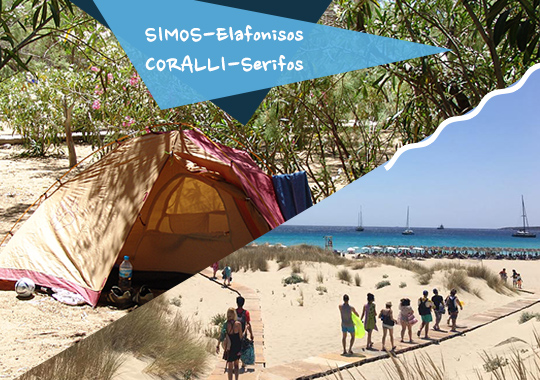 2. Coralli-Serifos
The Coralli camping lies on the golden beach of Livadakia in Serifos, only 5 minutes away from the harbor and it is considered one of the best equipped camping spots in all of Greece. The camping is surrounded by a verdant landscape and is fully equipped with a breadth of modern facilities and amenities for a truly wonderful stay.
Tel.no.: 0030 22810 51500
3. Finikes-Finikounta Messinias
Get ready to camp on one of the most beautiful beaches of Messinia situated only 2 km away from the scenic village of Finikounta. The excellent facilities, the exceptional food options and cleanliness of the camping site are only topped by the onsite library and the site's close proximity to Koroni, Methoni, Pylos and Voidokoilia beach perfect for daily excursions.
Tel.no.: 0030-27230-28524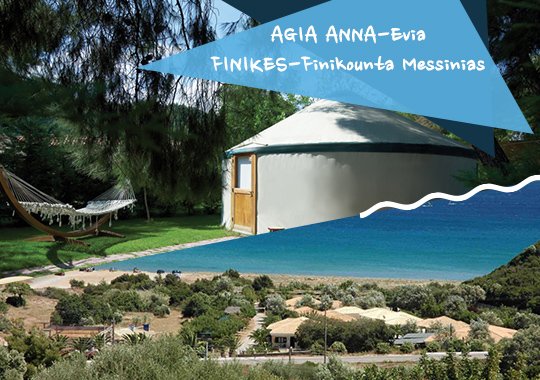 4. Agia Anna-Evia
Only 2.5 hours from Athens, the Club Agia Anna Summer Resort on the gorgeous beach of Agia Anna in Evia offers the perfect spot for pure relaxation and enjoyment. You can select a luxury tent, a family cabana or stay in a caravan and partake in a series of exciting sports adventures such as beach volley, basketball or dancing at the camping's nightclub. Perfect for families with kids, the camping site also features a pool, a pool bar and a restaurant and organizes an amazing range of activities for everyone to enjoy.
Tel.no.:0030 22270 97250 – 97185
5. Armenistis-Chalkidiki
Moving from Athens to the stunningly beautiful region of Chalkidiki, the Armenistis camping offers a haven of relaxation and serenity only 90 minutes from Thessaloniki's bustling center. A fully organized camping with tents, mobile homes and youth hostels for every taste and budget. A place where you will never have a dull moment as it offers an amazing range of sports and watersports activities, a great bar and a restaurant and most importantly an open cinema where you can watch your favorite movies right by the sea.

Tel.no.: 0030 23750 91487 – 91497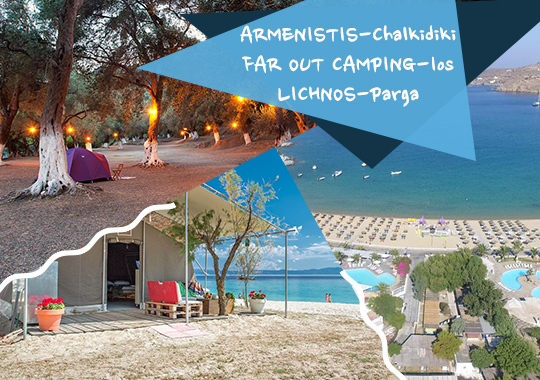 6. Far Out Camping
Far Out Camping is situated on the laid-back island of Ios. As an extension of the Far Out Beach Club, this beautiful camping site is located on the dazzling beach of Mylopotas amidst the olive groves. You can either rent a tent or a cabin, circular bungalows or double, triple and quadruple rooms. To further enhance your holiday experience, the camping site features and amazing range of leisure options such as swimming pools, basketball courts, tennis courts, a diving center, a fitness studio and yoga. Anything you may desire can be arranged, from laundry services to safety boxes and car rental. You name it!
Tel.no.: 0030 22860 91468 or 0030 2286092302
7. Lichnos-Parga
Moving to Western Greece and the beautiful town of Parga you will be mesmerized by the azure crystal clear waters and the white sandy beach of Lichnos. Relax in an oasis of serenity amidst the olive trees and dive into the shimmering sea. Enjoy a boat ride as well as the most exciting kayak, diving, biking, fishing, water sports and artistic adventures, concerts and excursions to the Acherontas River as well as the archeological sites of Nekromanteion, Nicopolis, Dodoni and Cassope.

Tel.no.: 0030 26840 31171
8. Makis Camping
Situated on the largest seaside village of Sifnos and only 600 m. from the harbor, Makis camping on the beautiful beach of Kamares is a popular camping site that has been awarded with the Blue Flag. The camping site features a café-bar, a mini market, a shared cuisine, washing machines, storage area as well as some room and studio rentals.
Tel.no.: 0030 6945946339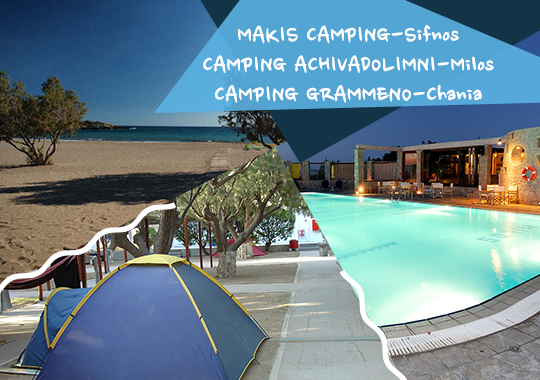 9. Camping Achivadolimni
On the island of love birds, what a better place to rekindle romance than under the open sky. Situated on the beautiful beach of Achivadolimni, the camping site offers you a selection of tents as well as sea view or mountain view bungalows. Relax and enjoy the summer with an amazing range of scuba diving, windsurfing, kanoe-kayak, kite board, sailing, beach volley and hiking. Achivadolimni's camping also features a pool bar and a restaurant and allows visitors to book a package with breakfast, half-board or full board meals.
Tel.no.: 0030 22870 31410 or 0030 22870 31411
10. Camping Grammeno
In a very exotic setting amidst the cedar trees and the gleaming waters of the Libyan Sea, Grammeno camping ensures a holiday of pure relaxation and serenity. Located only 4 km from Palaiochora, Grammeno camping offers tents or cabins and is fully equipped with all necessities for a wonderful stay. You can spend your day enjoying one of the many water sports adventures offered at the site, embark on daily excursions or boat tours to Gavdos, Elafonisi and Sfakia and hike through the world renowned gorge of Samaria.
Tel.no.: 0030 28230 42125
A fully organized camping can surely offer you the same amenities and comforts as a budget hotel plus direct access to the beach as well as many fun and enjoyable adventures to share with your family and friends. So, when in Greece, you now know where to camp and if you dare, stay tuned as we will also provide you with our top picks for the best free camping sites in Greece.