Greece is listed in the top 15 list of coffee consumption throughout the world despite its significantly small size compared to other countries. Drinking coffee in Greece is not only part of our everyday routine but more of a ritual, it is our time to relax, to read a book, play a set of backgammon, catch up with friends or simply sit back at any of the traditional cafes in Athens and watch the world go by. It is a vital part of our culture, our tradition and heritage as it goes back many generations.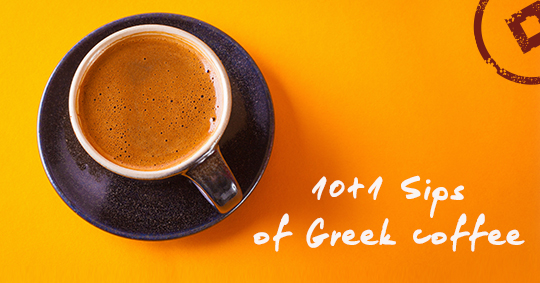 So, if you wish to take a sip of our heritage at some of the most original Greek cafes, here are the 10+1 best traditional Greek Kafeneia in Athens.
1.       Zonars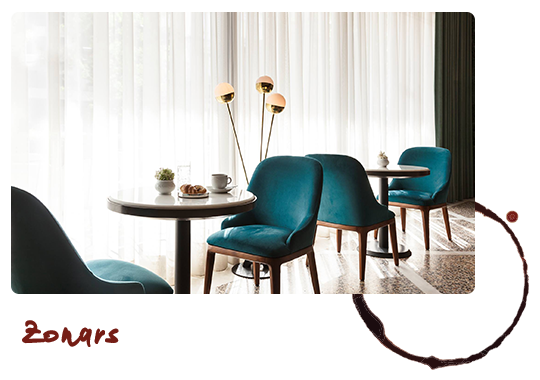 This is by far one of the most renowned Greek cafes amongst the crème de la crème of Athens. Anyone was visiting Zonars and still does. Zonars doesn't really evoke the traditional sense of a Kafeneion but its nostalgia. As soon as you walk through the door you realize that you are visiting a place where great things have happened or are about to happen.
Address: Voukourestiou 9 & Panepistimiou St.
2.      Kafeneio To 111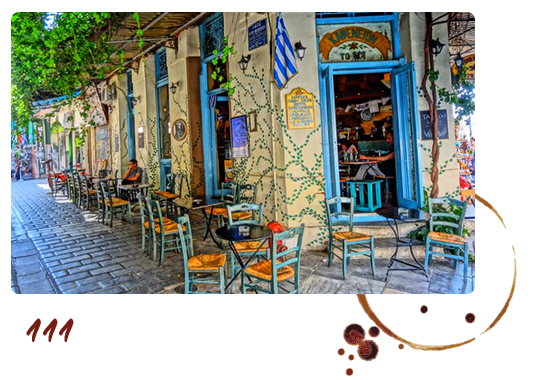 Built in 1918 this enchanting kafeneio in the heart of Athens still maintains its authentic character and charm. From early morning with Greek coffee till late at night with authentic flavors, music and Greek tsipouro, 111 adds some extra warmth to your every day.
Address: Ermou 111 St., Monastiraki
3.       I Oraia Ellas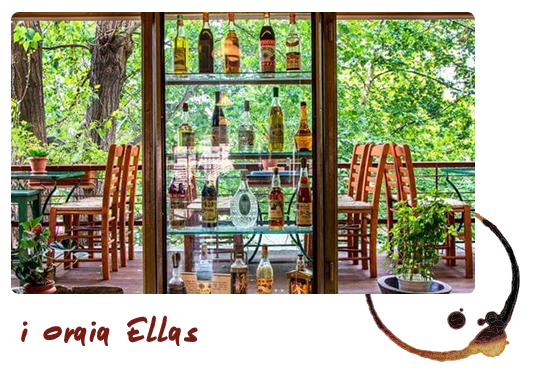 Since its establishment in 1980, Oraia Ellas remains the most upscale kafeneion in the center of Athens welcoming guests in its warm embrace for a cup of coffee and the most amazing views to the Acropolis.
Address: 59 Mitropoleos St., Monastiraki
4.      Mouria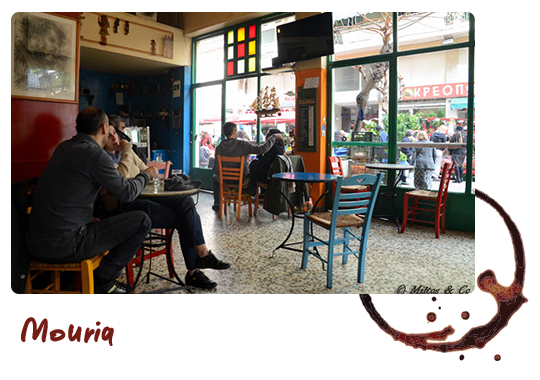 This is one of the first and most famous Kafeneion of Athens, still adorning the neighborhood of Exarchia. It is the perfect place to relax with friends playing a game of chess or backgammon.
Address: Trikoupi Charilaou 87, Exarchia
5.       Kafeneio Kydathinaion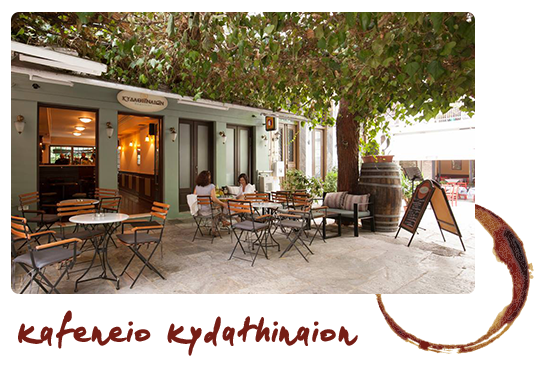 As if taken out of a bygone era, this all-day Kafeneion is the perfect place for literary, political and social conversations and intellectual discussions. It is the place to enjoy your coffee, your drink or dessert while unwinding in its elegant surroundings.
Address: Filomousou Eterias 2 Square, Plaka
6.       To Kafeneio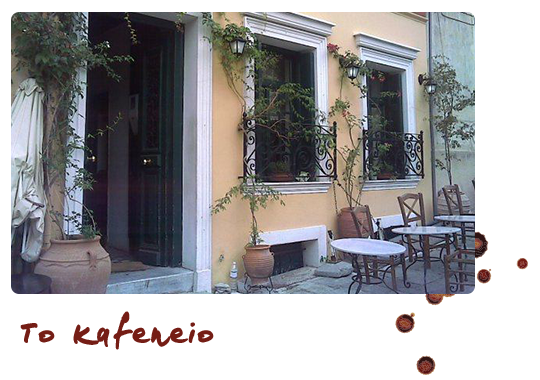 A traditional kafeneion in a 400-year-old building in the picturesque area of Plaka. Since its establishment it has been the hub of the intellectuals of Athens and a favorite spot of tourists and celebrities.
Address: Epicharmou 1, Plaka
7.       Ypovryxio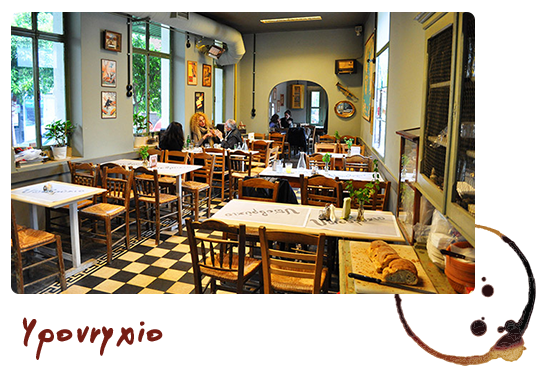 A very old and very traditional Kafeneion in the scenic area of Kerameikos -Gazi- where guests can enjoy their coffee in the morning sun or authentic Greek flavors accompanied by tsipouro and ouzo in the evening.
Address: Stratonikis 19, Keramikos
8.       Ta Kanaria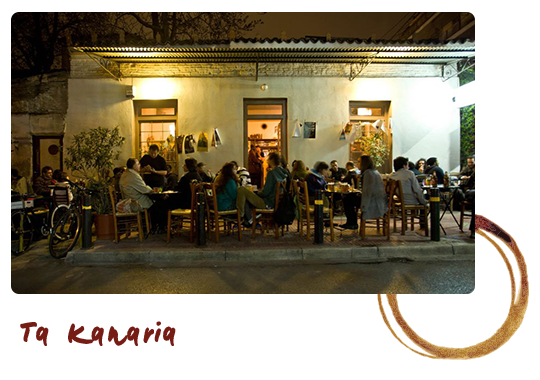 This is the oldest Kafeneion in the area of Keramikos, still holding its authentic character and style. It is the place to enjoy your coffee right on the wide sidewalk and as the day unfolds savor exceptional flavors to the sounds of live music.
Address: Keramikou 88, Keramikos
9.       Dexameni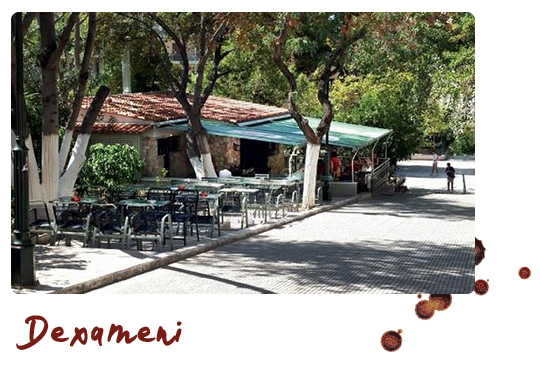 A traditional Kafeneion that used to be visited by artists and intellectuals, the place where Kazantzakis and Varnalis had their morning coffee. In the shadows of Lycabettus, right on the sidewalk, Dexameni makes you feel as if enjoying your coffee in your back yard.
Address: Dexamenis Square, Kolonaki
10.   Kafeneio Navarino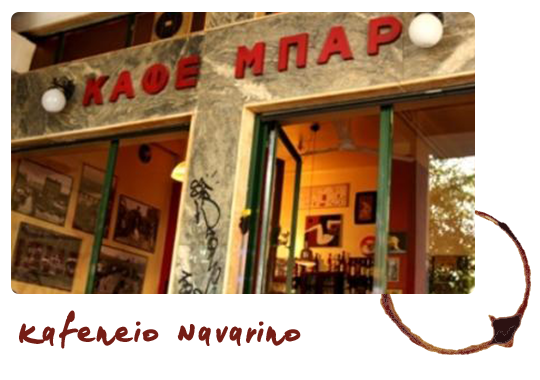 Address: Navarinou 15, Exarchia
As if taken from a black and white movie, this traditional Kafeneion brings back the old warm charm. It is the perfect place to socialize and relax while drinking your coffee or savoring eclectic Greek flavors to the tunes of Greek music, instrumental or even punk.
11.   Klepsydra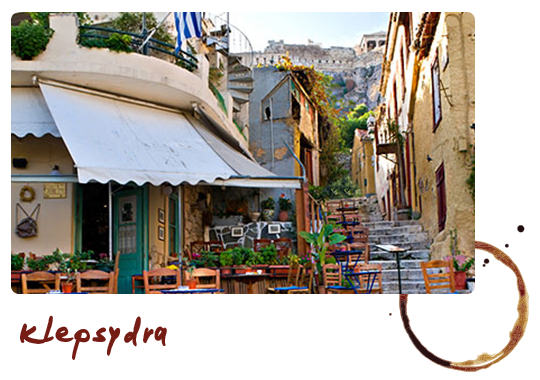 A very traditional Kafeneion evoking a sense of unrivalled romance and nostalgia. Accompany your coffee with the homemade desserts or quench your cravings with an eclectic assortment of Greek delicacies.
Address: Thrasivoulou 9, Plaka
Next time you visit the Greek capital, take a sip or two of its tradition and heritage at one of the 10+1 best traditional Greek Kafeneia in Athens.