Inspired by "La Dolce Vita's" Italian glamour in 1960 and the newly introduced cosmopolitan flair of Greece in "Something hot" from 1964, Aressana Spa Hotel & Suites in Santorini reminisces the sweet life from the 60's and 70's… and signals the sweet rebirth of Greece against Santorini's Caldera.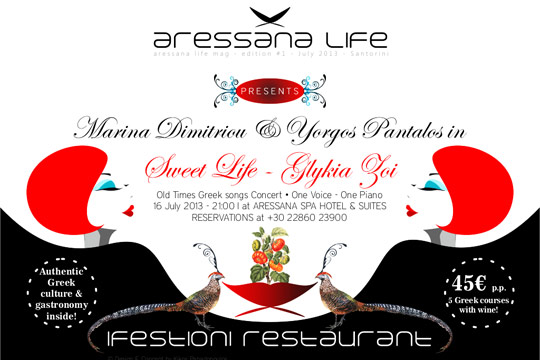 Through Greek retro melodies and flavours the "Sweet Life"* unveils at Aressana Spa Hotel & Suites on Tuesday July the 16th under the thematic direction of Kikos Papadopoulos and the valuable support of Aressana's team.
The voice of Marina Demetriou accompanied by George Pantalo's tunes from the piano and the traditional gastronomic suggestions created by Kosta Papakisto will set the mood for a memory journey that will inspire.
So, get your mood lifted and prepare your taste buds for an incredibly delicious evening with mouth-watering Cycladic specialties.
Dakos from Crete, goat seasoned with herbs from the Aegean, cherry tomatoes from Santorini and mastiha ice-cream from Chios are only few of the flavours that will follow the taste map to the country's most delectable destinations.
Greece emerges from the spellbinding purity of its past and Cycladia goes retro!
How sweet is this?
Stay at Aressana Spa Hotel & Suites and witness the sweet rebirth of Greece.
*
The text and the idea of the event are based on the study «
Diplomazia Culturale del Cinema Italiano & Europeo», Kikos K. G. Papadopulos, Ed.Academica S.R.L., RM, 1992
.