The arrival of summer was greeted by the brand new version of the Cycladia. We are delighted to present the redesigned, upgraded website, enhanced with cool new features, destinations and multimedia content!

New travel guides, more options and user friendly interactions were Cycladia's priority in the new development, and we believe to have achieved just that.
The Cycladia team has assembled all the information essential for travelers to explore the best of the Greece's islands.
More Destinations & Travel Guides including:
Combining history and Cycladic beauty, Paros is an island with unique traditional architecture, authentic spirit and cosmopolitan vibes. Read the Paros Travel Guide!
Serifos Island
Blessed with natural beauty, Serifos Island has 72 stunning beaches of white sand and turquoise waters, exotic coves and tiny islets. Read the Serifos Travel Guide!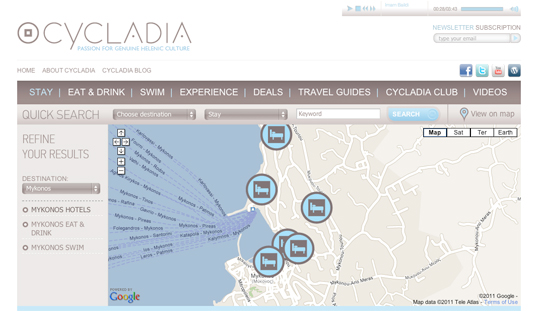 Sifnos Island
A little haven in the Cyclades , a temple of relaxation in the Aegean Sea, Sifnos Island is a jewel of the Cycladic Civilization featuring stunning landscapes, picturesque medieval villages and exceptional beaches! Read the Sifnos Travel Guide!
Cycladia team has collected all the information travelers need to explore the best of the above Islands!
Visitors can also download the Travel Guides in Printable version and travel with Cycladia across the Islands of Greece!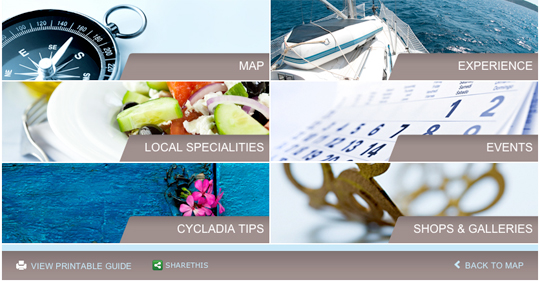 Cool Features and Functionality
The new version of Cycladia has an improved navigation system enabling visitors to search easier within its content, sort listings by point of interest, location, price range and so on.
Visitors have a powerful tool enabling them to search and directly book a unique travel experience through Cycladia. From destination overviews, to accommodation, entertainment and sightseeing to hotel deals, holiday packages and detailed maps!
Videos, music and images aim to deliver a virtual experience of Greece
Deals and Experiences
The Cycladia Team has selected the best deals and holiday packages of the finest hotels in Greece, featuring a list of accommodation promotions and special rates, restaurants and spa that guarantee unforgettable vacations.
In the Experience section Cycladia visitors will find holiday packages, unique combinations and smart ways to enjoy Greece at its best!
Book online with Cycladia
Cycladia provides more than just tourism information! The experience of a trip begins at the moment the booking! Find the best then book!
Just browse Cycladia's content of the best hotels in Greece, sort the results by your interests, Book online with Cycladia and enjoy your dreamy holidays!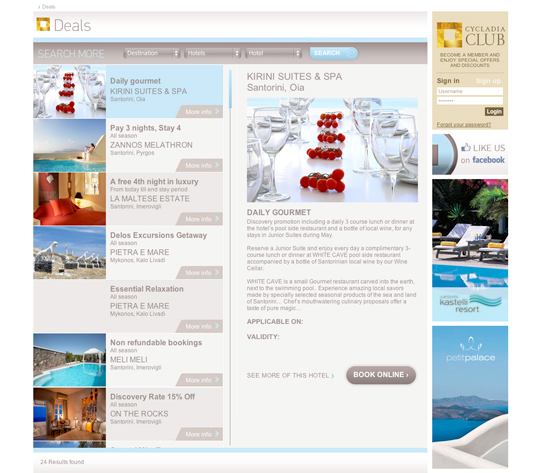 Join Cycladia

Do you offer quality on travel and tourism in Greece?
Join the adventure and get your property listed in Cycladia! Fill in the form and our team will review your suggestion the soonest possible!
The Cycladia listings are issued by quality standards.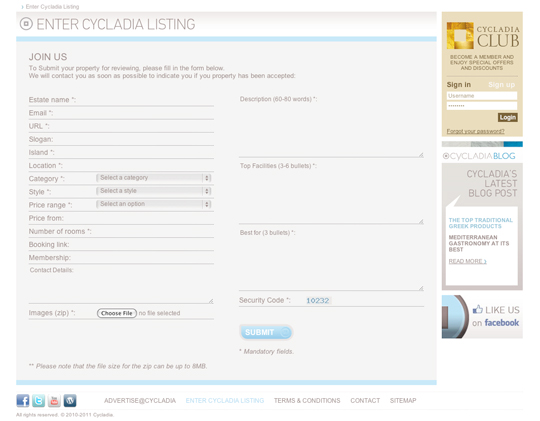 Advertise on Cycladia!
With the paid placements within Cycladia new version, Travel or Tourism business owners can get targeted exposure from various pages of the website and get closer to their potential visitors!
Enjoy the Cycladia brand new version! The trip continues…