Ancient Greek gods and goddesses would have never imagined that they might be an inspiration for some of the very famous and much praised fashion designers some millennia later.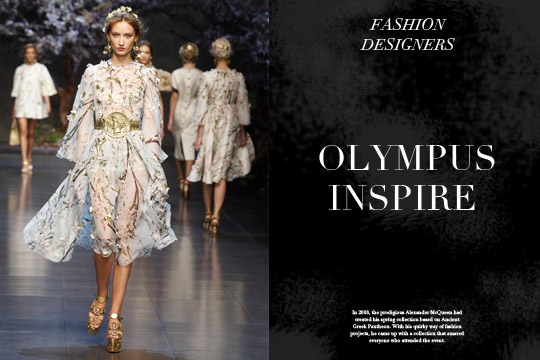 Their way of living, thinking and acting, as cited by the historians, the poets, the painters and the philosophers –not so divine at all time– has very often been a stimulus for many collections in the recent years. Colours, fabrics, design, the very notion of deity, strength, sensitivity are only some essences of the Greek Pantheon that designers have "borrowed" in order to compose their fascinating work.
But it's not only the aforementioned ideas that have been the so-called keywords for the designers. It is also, we would rather say, what Greece stands for as a place: deep blue waters, stunning light, optimism and creativity. This very quintessence remains alive, even when the country sometimes appears to be reeling under a serious crisis.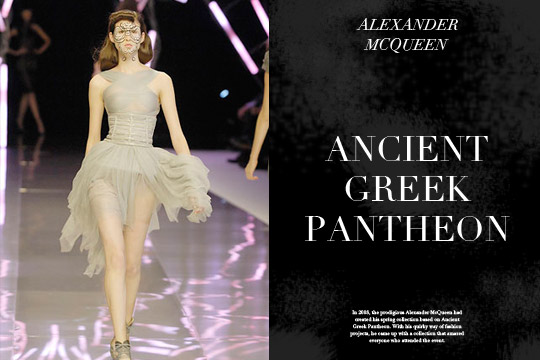 In 2008, the prodigious Alexander McQueen had created his spring collection based on Ancient Greek Pantheon. With his quirky way of fashion projects, he came up with a collection that amazed everyone who attended the event.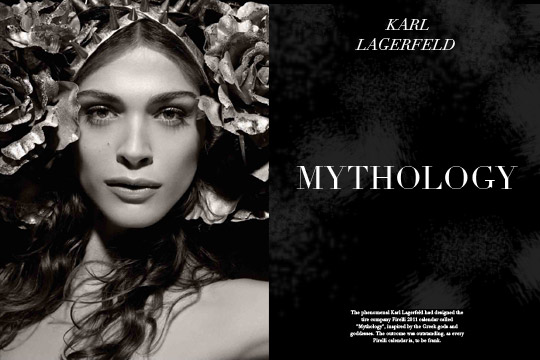 The phenomenal Karl Lagerfeld had designed the tire company Pirelli 2011 calendar called "Mythology", inspired by the Greek gods and goddesses. The outcome was outstanding, as every Pirelli calendar is, to be frank.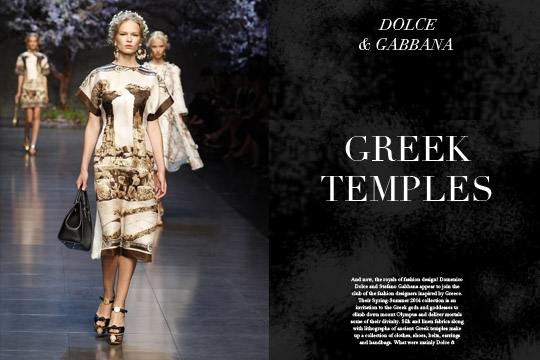 And now, the royals of fashion design! Domenico Dolce and Stefano Gabbana appear to join the club of the fashion designers inspired by Greece. Their Spring-Summer 2014 collection is an invitation to the Greek gods and goddesses to climb down mount Olympus and deliver mortals some of their divinity. Silk and linen fabrics along with lithographs of ancient Greek temples make up a collection of clothes, shoes, belts, earrings and handbags. What were mainly Dolce & Gabbana inspired by, and what was their core idea of creating this collection? Venus and Artemis or, else, eternal love and hunting. After the show, everyone was talking about another D&G triumph.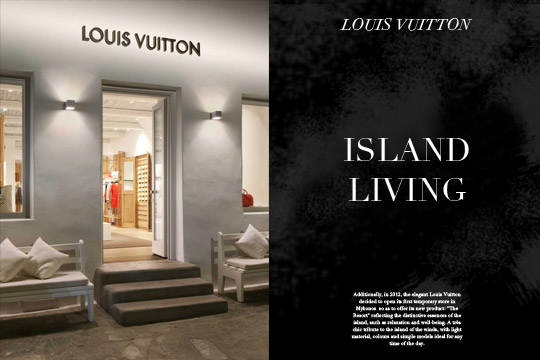 Additionally, in 2012, the elegant Louis Vuitton decided to open its first temporary store in Mykonos so as to offer its new product: "The Resort" reflecting the distinctive essences of the island, such as relaxation and well-being. A très chic tribute to the island of the winds, with light material, colours and simple models ideal for any time of the day.
Greece has a wide range of inspiring notions that will motivate not only fashion designers but also artists from different fields to create amazing works of art dedicated to Eternal Greece.
In anticipation of the new collections… we will keep you posted!