Gold Hotels in Greece
Gold is the colour of luxury and well being, depicting welfare since it highly reflects the notion of the gold element. But most of all, gold is the colour of the sun.
The sun, in its turn, is the predominant colour of Greece, painting its landscapes with this rich, warm, inviting hue, adored not only by Greeks but also the entire world.
Besides, it is not a coincidence that Sun has been considered to be the primary, life giving God throughout centuries from ancient to even more contemporary civilizations.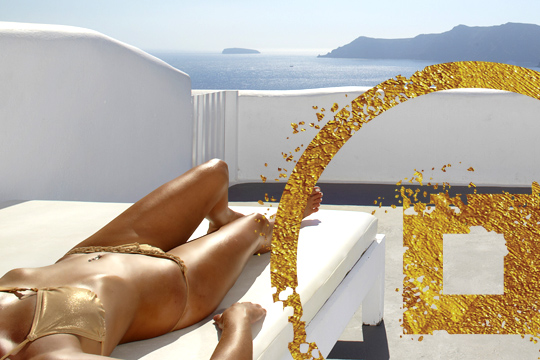 While Greece is a vacationing heaven with all kinds of landscapes, from green, mountainous sceneries to the mesmerizing deep emerald blue of the endless Aegean & Ionian Sea, the principal "attraction" is the shining light of the sun.
So, the Golden Hue couldn't but be integrated within the tourist infrastructure of destinations all over Greece.
Cycladia suggests the most representative hotels utilizing the unique combination of gold and white in their decoration, ambience and overall feeling:
Gold Suites in Santorini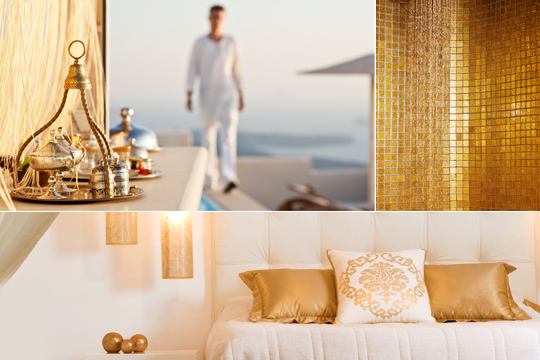 A complex of sublime suites nestled on the highest spot of Imerovigli, Santorini Island, Gold Suites offers the uttermost in Greek hospitality with luxurious facilities and high end services. Offering privacy at its most, all suites are brilliantly decorated in gold and white hues exuding a sensation of minimalism in a chic ambience.
Cavo Tagoo in Mykonos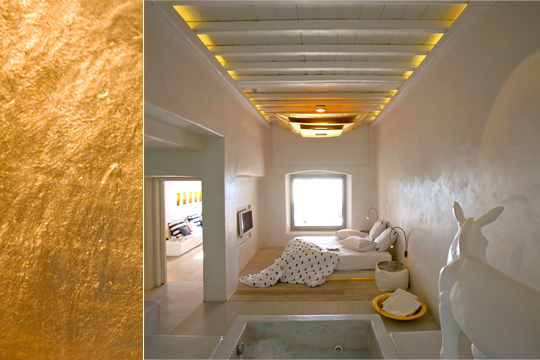 Cavo Tagoo is a luxury hotel located on the cosmopolitan Mykonos Island, near the island's Chora, integrating minimalism, luxury and local architecture to offer a sublime variety of accommodation types, from sophisticated double rooms to elegant suites and secluded golden villas. The hotel's decoration is predominated by minimal, stylish design elements and furnishing in soft colours and gold details.
Diamond Hotel in Kos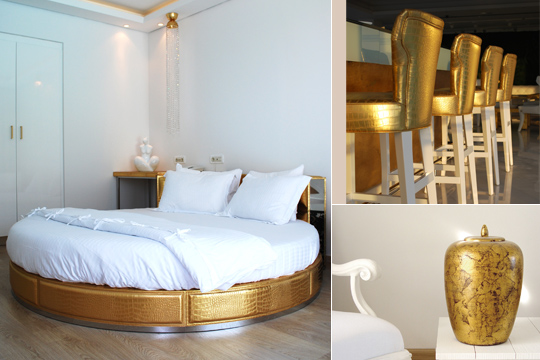 A 5 star treasure on the popular Kos Island, Diamond luxury hotel is literally the gemstone of the island. The opulent rooms and suites of Diamond Hotel are nestled within an ambience of grace and charm adorned by earthly tones and gold hues. The hotel's dinner restaurants and its three elegant bars are the epitome of the chic, gold aesthetics of Diamond.
Amirandes Exclusive Resort in Crete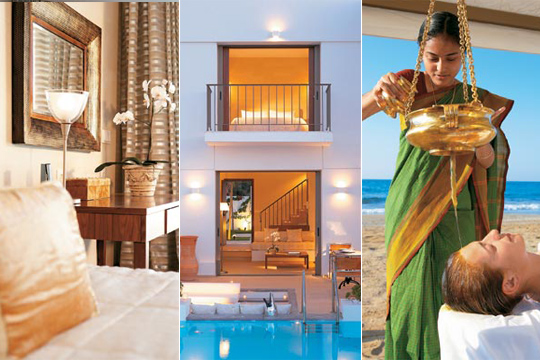 Lying on an area of 70.000 m2 and surrounded by lake like pools and tropical gardens, Amirandes Resort. ideally blends natural materials in an ethnic style, reflecting the ambience of the Minoan Palaces. With the most warm hospitality, distinctive of Crete Island, Amirandes offers sublime guestrooms, suites, villas and bungalows each uniquely decorated but with a common predominant element: the gold and light beige hues.
Enjoy your vacation in the breathtaking Greek landscapes…
enjoy the Golden side of Greece!