As a teardrop from the eyes of Chios, travelling from the surface of the earth, through the air and sea, Mastiha follows a long path, until it finally arrives to your home.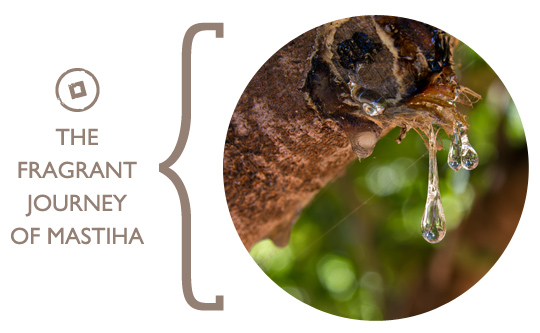 Cycladia shares the insights of this route, a journey fascinating mankind since antiquity.
Stage One: Preparation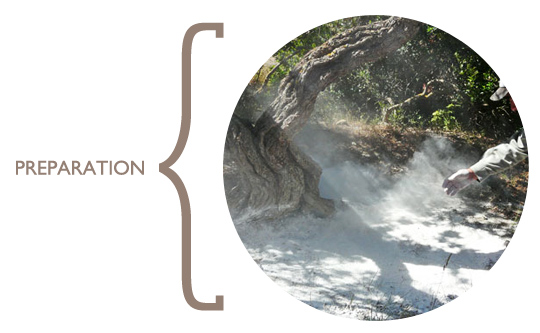 Beginning in December, the lentisks (mastic trees) are fertilized and until February the lower branches are shaped in such a way so as to allow the air and light through and let the mastic resins dry. In the midst of summer the soil is cleaned from other plants and white sand is placed on the ground around each tree. In July the "kentima" process begins; it is actually the carving of small scars on the trunk allowing the mastiha resins to drop from the small holes and on the white surface.
Stage Two: Collection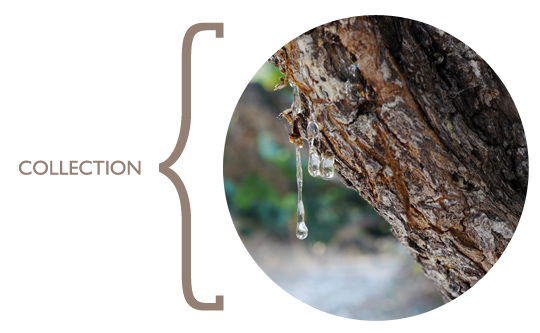 The first collecting takes place at the end of August when the mastiha drops have begun to solidify. They are then placed in wooden boxes and stored in cool places until they are ready to be diligently cleaned.
Stage Three: Cleaning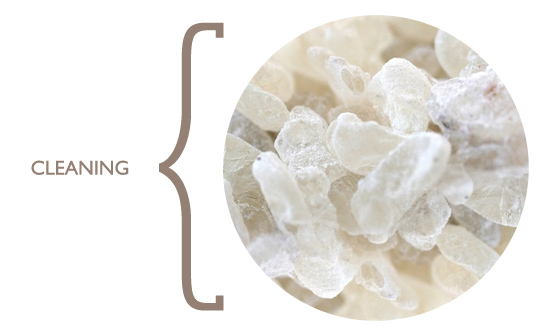 The correct process of cleaning begins from the sea, mastiha needs to be washed in sea water and then hand cleaned piece by piece by the local women of the 21 mastiha villages, also known as Mastihohoria.
Stage Four: Processing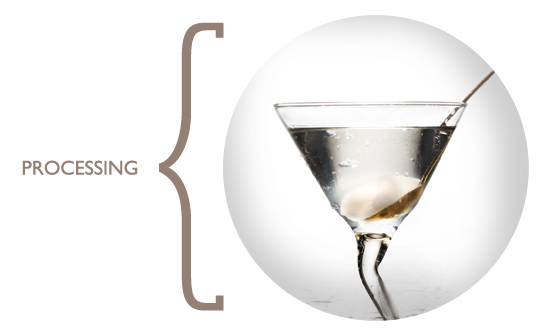 Then mastiha is delivered to the Chios Mastiha Growers Association, the only legal representative of the product that has the right to process, sell or export the final products, from raw mastiha to chewing gum, mastiha oil, desserts, alcoholic drinks all the way to fine cosmetics, spa and body products sold only through the Mastiha Shops throughout the world, and their online store.
Stage Five: The Significance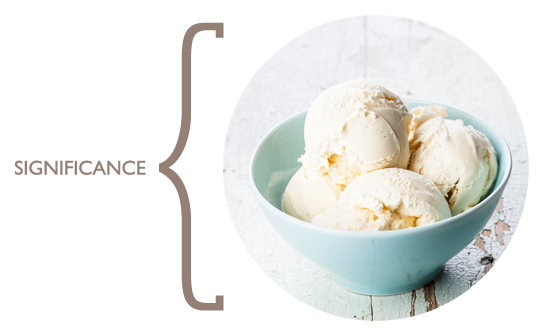 Mastiha is a one of a kind product found only in the southern part of Chios Island. Its significance is evident in medicine, cooking and cosmetology. It helps digestion, stomach aches, peptic ulcers and gingivitis, while its flavour and scent make it a distinct ingredient for many Greek recipes. As an essential oil it is widely used in perfumery due to its fragrant aroma.
Another treasure from the depths of the Greek soil has been unveiled but there are more yet to come… Stay tuned!
Image Credits
"Stage 3: Cleaning Image" from www.heracles.gr/mastixa.html