The Ionian Islands or Heptanese (meaning "Seven Islands" in Greek) are a unique cultural mixture of Greece and Italy. The Ionian Islands are well known for their ravishing beaches, their crystal sea waters and their traditional villages. Let's meet them one by one!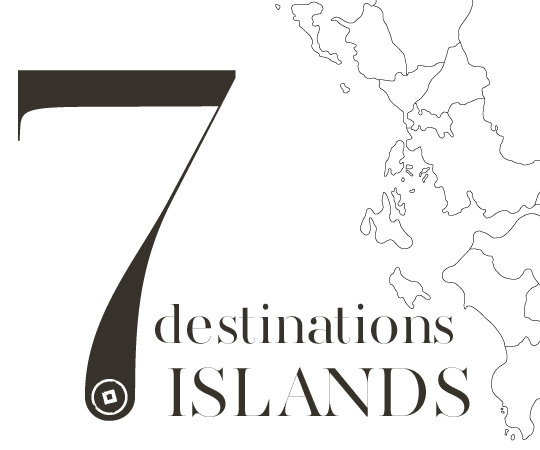 Kefalonia Island
Kefalonia is the largest of the Ionian Islands boasting a rich history that spans from the Ancient Times and the Roman Times until Modern Times but has accomplished to maintain its distinctive character throughout the centuries. It is just impossible to enumerate the natural beauties of Kefalonia, which are famous throughout the world.
Mirtos beach is a characteristic example of a superb location that has been voted 12 times as the Best Greek Beach! Beaches like Makrys Gyalos, Platys Gyalos, Vatsa, and Lourdas are also some beaches of unique natural beauty with azure waters and sandy coasts.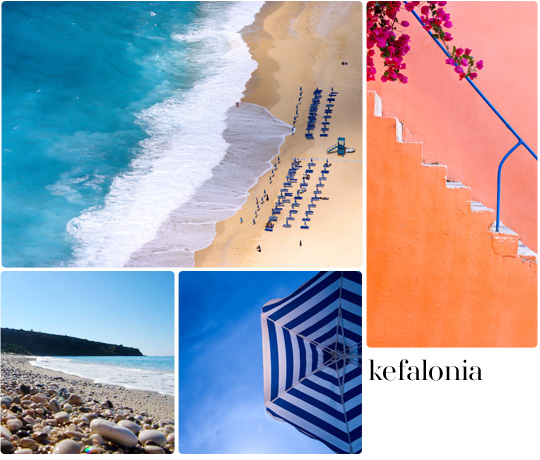 Cycladia suggests Avithos Resort , a complex of studios and apartments nestled within gardens and olive groves. For moments of absolute privacy close to Myrtos beach why not stay at Braunis Horio Villas offering a charming collection of villa rentals overlooking the Ionian Sea. For luxurious and spacious rooms with a majestic view, Thalassa Hotel has got something to tell you.
TIP:Did you know that Captain's Corelli Mandolin was filmed in Kefalonia?
Lefkada Island
Lefkada is a bouquet of green idyllic natural scenery surrounded by the crystal clear waters of the Ionian Sea. Inspiring locations and a symphony of turquoise, green and white hues are the basic traits of Lefkada. Without further ado, Lefkada natural beauties are unfolded in front of your eyes.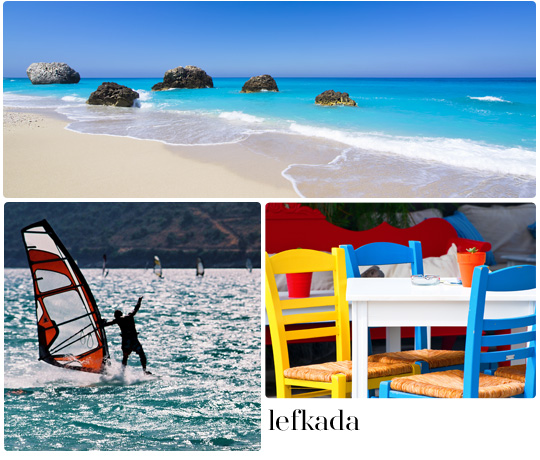 Must Beaches: The magnificent and difficult to reach Athani beach, the watersports friendly Nikiana beach, and, of course, the famous Porto Katsiki beach where the tropical natural environment blends harmonically with the Mediterranean landscape.
For the distinguished travelers that require modern and elegantly designed rooms at affordable prices Mira Resort is the perfect solution while for those who wish to stay at a centrally located hotel, then Boschetto Hotel is your choice!
TIP: Did you know that Lefkada is in close proximity to Scorpios islet which was bought in 1962 by the tycoon Aristotle Onassis? Now it's owned by his granddaughter, Athena Onassis.
Corfu Island
Corfu is a blessed island full of magnificent natural landscapes, extraordinary flavors and tastes. Besides, the local cuisine has Turkish, Greek and Italian influences; a temptation for the Mediterranean cuisine lovers.
The captivating Pontikonisi, the architectural masterpiece of the Old Fort, the astonishing location of Palaiokastritsa are just some of the spots that will make you prolong your stay on Corfu.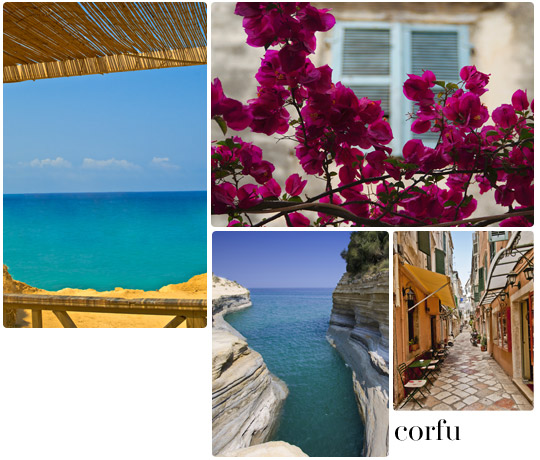 If your pre-requisites are the stunning views, the diversity in gastronomic choices and a wide range of indoor and outdoor activities, then Marbella Beach Corfu is your hotel.
On the other hand, if privacy and luxury by the sea is what you look for, then S&O Villas is our proposal!
TIP: Did you know that at Achillion Palace (or Mon Repos) Philip Mountbatten, the Duke of Edinburgh, and spouse of Queen Elizabeth was born?
Zante Island
Zante is also a popular destination combining relaxation with intense nightlife; Zante is the place that has it all. The warm waters of Tsilivi beach are ideal for watersports while Navagio beach is the trademark of the island. For a unique natural scenery and vibrant ambience Laganas Beach is the place!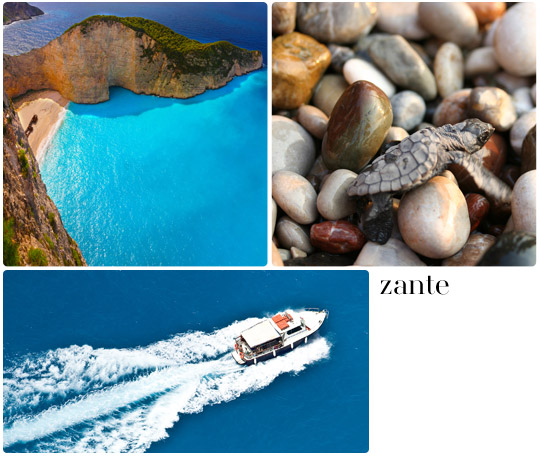 For a unique stay within beautiful gardens choose Garden Villa Apartments while Paliokaliva Village is a unique selection of villas offering the perfect residence for families or groups of friends.
TIP: Did you know that Laganas Beach is where the sea-turtles Caretta Caretta, which is a species that has lived on our planet for 200 million years, choose to lay their eggs every year?
Ithaca Island
The size of Ithaca Island is in direct disproportion to its rich history, as it is considered to be the home of the Homeric Odysseus. Marmakas beach, Sarakiniko beach and Kourvoulia beach are unique for their beauty combined with the traditional colour of the island. Not to mention the magnificent Kioni village, so graphic just like a painting, and the charming Vathy, the island's capital, with its deep bay and picturesque, traditionally restored houses where time seems to have stopped!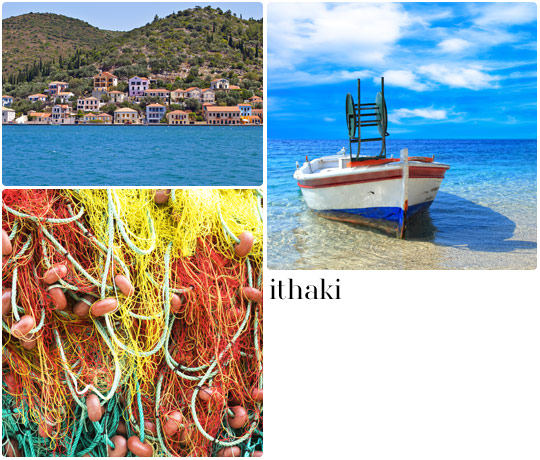 Ithaca offers a great variety of accommodation choices: for villa fans, we suggest Villa Kalos, a unique combination of traditional elements with modern interior design. For charming apartments in the centre of Vathy, Cycladia proposes Omikron Residence.
TIP: Did you know that on Ithaca there is an olive tree that is supposed to be at least 1,500 years old?
Paxoi & Antipaxoi Islands
Paxoi & Antipaxoi back in the ancient times were considered as the erotic refuge of Poseidon, the God of Sea. The green landscape and the turquoise waters with the traditional villages and the sea caves will captivate your heart and mind. If you want to find yourself surrounded by abundant greenery, small pebbles and crystal water do not miss Kipiadi Beach, Levrehio Beach, or Marmari Beach!
The best sailing and yachting destination for its verdant coves with the transparent waters!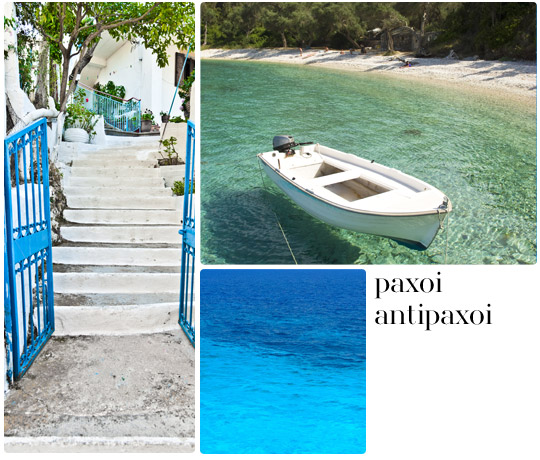 For a unique stay in Paxos island choose Torri E Merli Boutique Hotel offering some splendid suites or Penny's Apartments with a selection of beautifully designed and decorated spacious apartments.
TIP: The Phoenicians are considered to be the first settlers on Paxos. Did you know that the island's name is believed to derive from the word "Pax" which meant trapezoidal in their language?
Kythira Island
Kythira is the tranquil and isolated part of the Ionian Islands' cluster as it is located on the south east of Peloponnese. However its natural beauty is truly amazing and the stunning secluded beaches will compensate you. Sparagario beach, Kaladi beach or the amazingly beautiful Kalami beach are just some of the many beaches of pristine and wild beauty that allure their visitors making them feel unable to leave.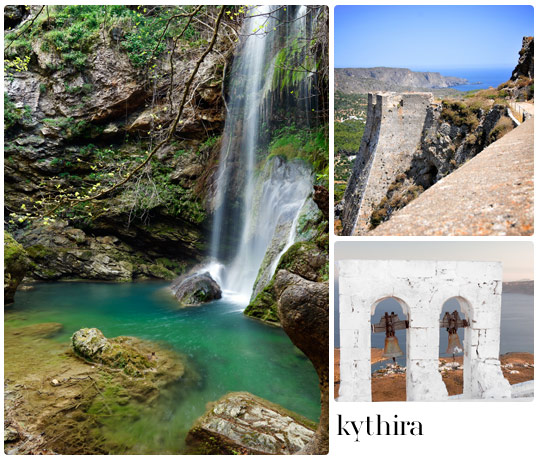 For a comfortable stay in Kythira, Cycladia suggests Portari Houses, a selection of affordable, traditional houses and Zografies Studios, a complex of modern studios with unique services and facilities.
TIP: Did you know that on Hytra Islet (south east of Kythira Island) there is a water cave that is a refuge for sea seals?

For this summer Cycladia has decided: Ionian it is!