Greece is world famous for its local products and wines of premium quality and as a result the wine is now not only one of the five primary elements of the Greek nutrition, but also a part of our culture. Wine has been transformed to the perfect high class drink for almost every casual or formal occasion.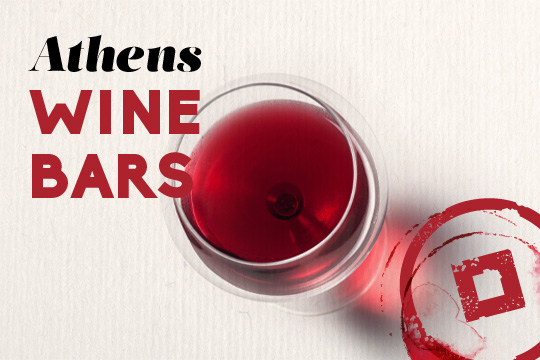 Speaking of wine keep in mind that the Oinorama – Dionysia exhibition, the largest wine exhibition in Greece, will be hosted in Zappeion Megaron, Syntagma, from the 7th to 10th of March of 2015 so make sure to stop by.
On the occasion of this wine event, Cycladia has picked for you a list with the top 10 wine bars in Athens to take you to a truly unique wine tasting experience!
1. Winepoint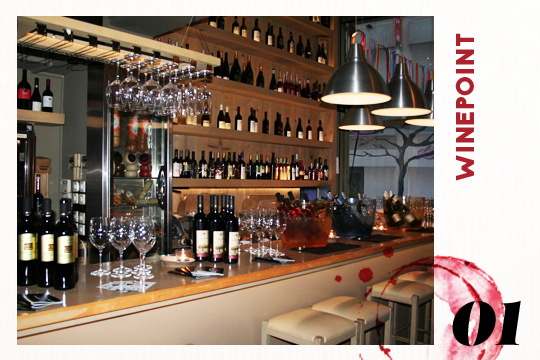 Winepoint is near the Acropolis Museum and is the first wine bar in Athens with Greek wines. This wine bar offers up to 250 wine labels that are accompanied with exceptional Greek cheese and sausages. Each wine is unique and thus served in the proper glass!
Ath. Diakou &  Porin str. 2- Acropolis, 210 9227050, FB page: http://goo.gl/Bcnpk6
2. Oinoscent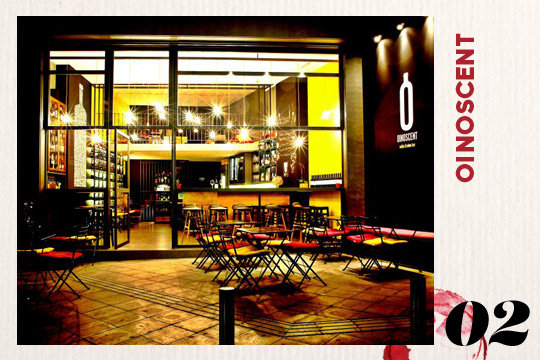 Oinoscent has created a wine list with new labels from the Greek and international vineyards while also maintaining its own cellar, enabling the wine lovers to choose between 700 labels in total. Moreover, Oinoscent organizes periodically many presentations and wine tasting events.
Voulis str. 45-47 – Athens, 210 322 9374, FB page: http://goo.gl/iwE8az
3. Heteroclito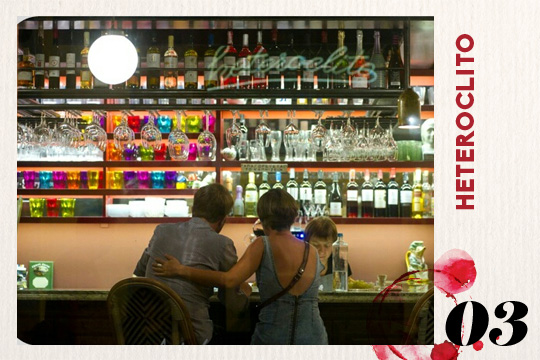 Heteroclito is the ultimate destination for Greek wine lovers. At Heteroclito you can taste a great selection of fine wines from the Greek vineyards, attend various wine events, learn about wine and its production and purchase exclusive wine gifts.
Fokionos str. 2- Athens, 210 3239406, website: http://goo.gl/HVZmE1
4.Kiki de Grèce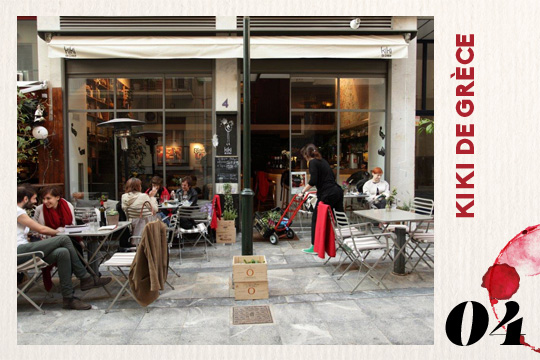 Kiki de Grèce is a wine bistro that offers 50 labels of Greek wines approximately. Kiki also offers a variety of deli meats, cheese and gourmet finger food that perfectly fit with the fine taste of the wines. Don't miss Kiki's aperitivo every Wednesday.
Ipitou & Voulis str. 38 – Syntagma, 21 0321 1279, FB page: http://goo.gl/4Q7ZQi
5. Brettos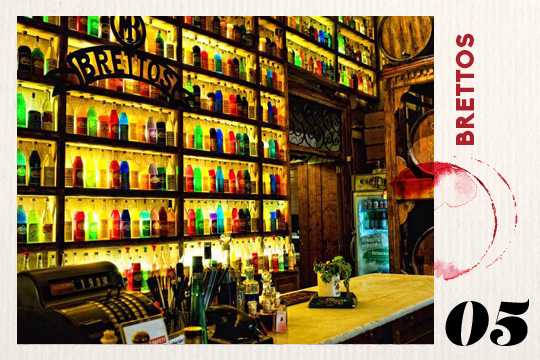 When you enter the historic bar Brettos you can't ignore the colorful bottles and lights of the oldest distillery in Athens with a history of over 100 years. Brettos offers old time classic liqueurs as well as an endless list of Greek drinks and wines.
Kydathinaion str. 41 – Athens, 210 323 2110, FB page: http://goo.gl/49TYcC
6. Corks and Forks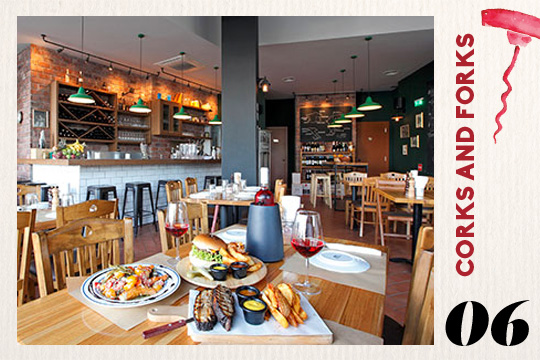 Corks and Forks was the first bar that introduced the wine pub concept and has gradually become a synonym of enjoying wine in view of the sea! At Corks and Forks one thing is certain: you will enjoy your wine along with mouthwatering specialties of the Mediterranean cuisine in a friendly and warm environment.
Themistocles Coast and Parga 1 str. – Piraeus, 2155159792, FB page:  http://goo.gl/ql6qC6
7. By the Glass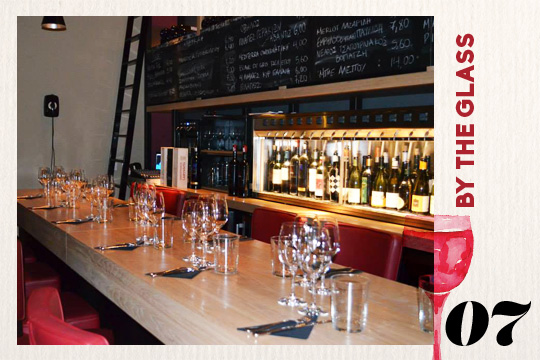 By the Glass wine bar & Bistro has a wine collection of up to 250 labels from Greek and international vineyards, magnum bottles and rare collectible bottles for all tastes. By the Glass is hidden in an Athenian "Stoa" allowing you to mingle with the great number of people enjoying their evening in the nearby tables while enjoying their wine and the soothing tunes of jazz or swing.
G. Souris Str & Philellinon 3 – Athens, 210 3232560, website: http://goo.gl/6GDnZL
8. Fabrica de Vino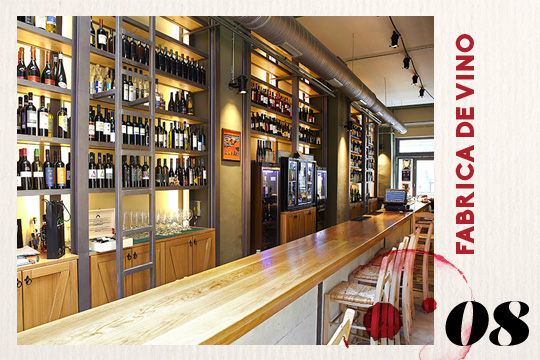 Fabrica de Vino is a wine bar of industrial and chic design that opened in 2011, when the wine bar concept was still unknown in Athens. Now it offers 600 labels of Greek wines, raki, sparkling wines as well as some of the best selections from the world's vineyards.
Emmanuil Mpenaki str. – Omonia 3, 210 321 4148, website: http://goo.gl/6nS55D
9. Wine not?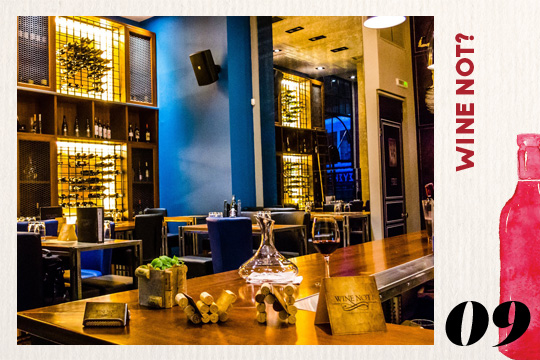 Wine not is a wine bar in Chalandri featuring a New York industrial and retro design, with swing, jazz and alternative artistic music all together creating the absolute atmosphere to enjoy a glass of wine. Wine not offers a great selection of 90 selected labels, paradisiacal cocktails and delicious finger food choices.
Kalogrezis str.- Chalandri 12, 2167002945 , website: http://goo.gl/pcg3t2
10.Klima-Klima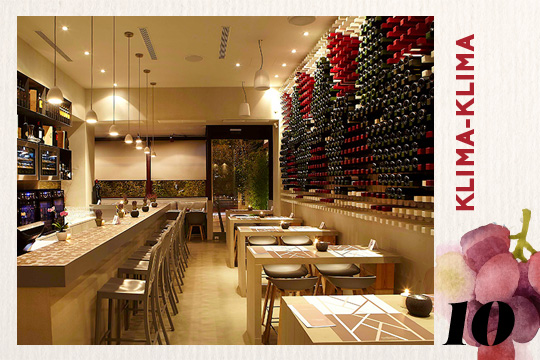 Klima-Klima wine bar at Melissia has come to offer you some of the finest products of the Greek land with more than 100 labels of Greek wine. Every 15 days, the Klima- Klima bar hosts the "Wine Producers of the 15 days" allowing its guests to taste great varieties of wine from all over Greece.
Panagi Tsaldari 32-34, 151 27 Melissia, 210 60 96 786, website: http://goo.gl/kVDfJJ (content available only in Greek)
 Pick a wine bar from Cycladia's list and get ready for the ultimate wine experience!