Brunch was invented as an excuse for those who always miss breakfast and never make lunch.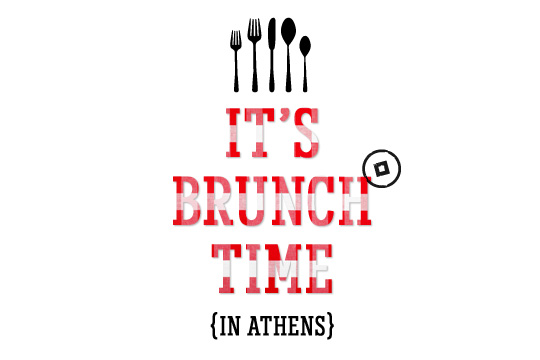 A brunch is the answer to a hangover, a casual business meeting, your quality family time or simply your excuse for a cocktail early day start. So, wake up and smell the morning because it's Brunch Time in Athens!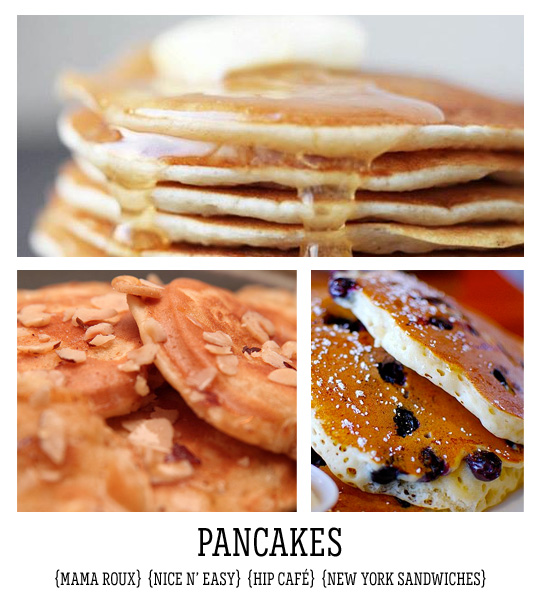 Mama Roux
Type: Café-Gastro Pub
Where: Aiolou 48, near Agias Irinis square
When: Sundays 12-5 p.m.
Best For: Muffins, bagels pancakes with maple syrup, burgers, omelets, eggs benedict
Style: Modern
Price Range: 8-16 €
Nice N' Easy
Type: Bio Restaurant Café
Where: Omirou 60 & Skoufa, Kolonaki
When: Saturday and Sunday 10:00 -14:30
Best For: Huevos rancheros, Mexican tortillas with eggs, pancakes
Style: Art Lounge
Price Range: 15 -25 €
Hip Café
Type: New York Style All Day Bar
Where: Mitropoleos 26 & Petraki 3
When: Daily: 8 am-12 pm, Sundays: from 10 am
Best For: Eggs Benedict with salmon, pancakes, omelet with prosciutto crudo
Style: Avant Garde
Price Range: 10-16 €
New York Sandwiches
Type: Fast Casual Food
Where: Sinopis 3, Ampelokipoi
When: Every Day 12 am-12 pm
Best For: Pancakes with homemade caramel, burgers, tortillas, soups, Benedict eggs
Style: Homelike
Price Range: 5-10 €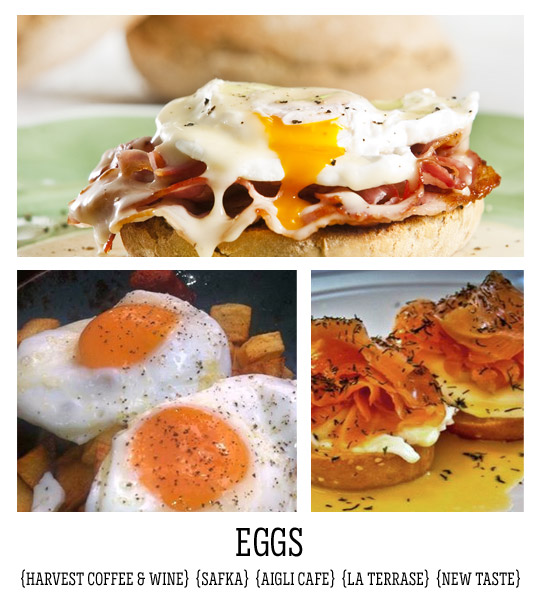 Harvest Coffee & Wine
Type: All Day Café & Wine Bar
Where: Aiolou 64 & Evripidou
When: Daily from 7 am-2 am
Best For: Huevos Rotos, patatas bravas, bagels
Style: Elegant
Price Range: 5-15 €
Safka
Type: Scandinavian Bar Restaurant
Where: Megalou Alexandrou 80-82 & Pileos, Keramikos
When: Sunday from 1 pm
Best For: omelets with Finnish Mushrooms and smoked shallots
Style: Minimal
Price Range: 5-10 €
Aigli Cafe
Type: Café Cocktail Bar
Where: Zappeion Garden from Vas. Olgas entrance
When: Sunday 12 am-5 pm
Best For: Mexican omelet, scrambled eggs, Mediterranean specialties
Style: Elegant
Price Range: 18-25 €
La Terrasse
Type: All Day Restaurant
Where: Pentelikon Deligianni 66, Kifisia
When: Sunday 1 pm-4 pm
Best For: Kompose with smoked salmon, stuffed chicken fillet, shrimp with lemongrass
Atmosphere: Casual
Price Range: 35-45 €
New Taste
Type: All Day Café Restaurant
Where: New Hotel, Filelinon 16, Syntagma
When: Sunday 12 pm-5 pm
Best For: Benedict eggs, homemade bread, croissants, quiches και smoothies
Atmosphere: Stylish
Price Range: 10-20 €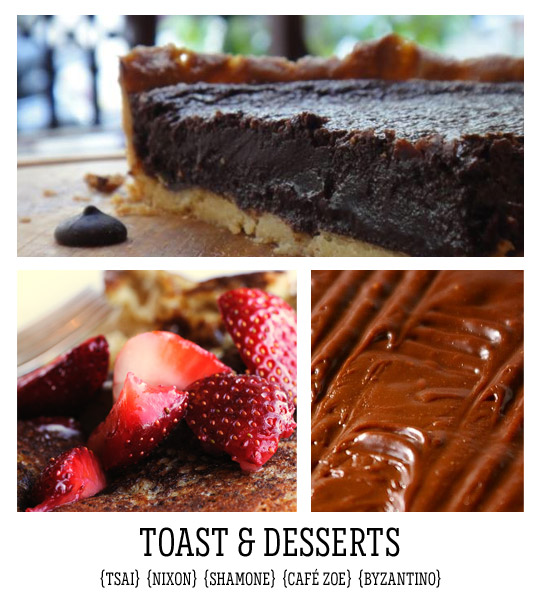 Tsai
Type: Restaurant-Tea Bar
Where: Lykavitou & Alexandrou Soutsou 19, Kolonaki
When: Sundays 12-5 p.m.
Best For: Tea, Soup, Ice-tea Cocktails, Noodles, Scrambled Eggs, Desserts
Style: Cozy, Elegant
Price Range: 8-14 €
Nixon
Type: All Day Bar
Where: Agisilaou 61 B, Keramikos
When: Sundays
Best For: Benedict Eggs, Burgers, Chocolate Fondue, pancakes with maple syrup
Style: Cozy Lounge
Price Range: 20-25 €
Contact: 210-3462077
Shamone
Type: Cocktail Bar Restaurant
Where: Konstantinoupoleos Avenue 46, Gazi
When: Sunday 1 pm-6 pm
Best For: Croque-Monsieur Croque-Madame, Burger, French toast with strawberries
Style: Avant-garde
Price Range: 10-15 €
Café Zoe
Type: All day Jazz Café Bar
Where: Intercontinental, Sygrou Avenue 89-93
When: Sunday 12 pm-3:30 pm
Best For: salad with Thousand Island dressing, seafood specialties, lemon pie
Style: Casual
Price Range: 20-30 €
Byzantino
Type: Restaurant
Where: Hilton, Vasilisis Sofias Avenue 46
When: Sunday 12:30 pm-4 pm
Best For: scrambled eggs, croissant, French toast, salads
Style: Chic
Price Range: 37-45 €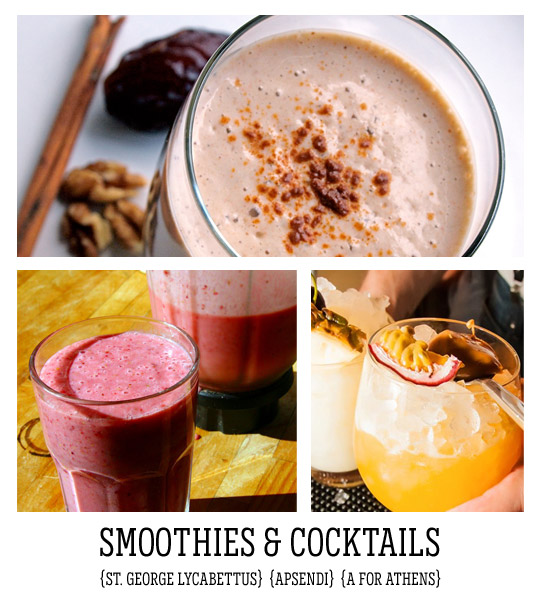 St. George Lycabettus
Type: All Day Bar Restaurant
Where: La Suite Lounge on the 6th floor of St. George Lycabettus, Kleomenous 2, Kolonaki
When: Sunday 12 pm-4 pm
Best For: Boosting smoothies, eggs benedict with salmon and bacon, La Suite juicy burger
Atmosphere: Classy
Price Range: 15-25 €
Apsendi
Type: Bar Restaurant
Where: Kifisias Avenue 250-254, Halandri
When: Sunday 12 pm-6 pm
Best For: Benedict Eggs, bloody Mary, burgers, cocktails, roast beef
Style: Sophisticated
Price Range: 20-40 €
A for Athens
Type: Cocktail Bar
Where: Miaouli 2-4 Monastiraki
When: Daily until 2:30 am
Best For: Cocktails
Style: Lounge
Price Range: 8-15 €
Cycladia has gathered for you the best places to eat & drink in Athens and enjoy brunch.
You've seen it all, you know the drill so get ready to brunch up your weekends!