Whether travelling with your family, your significant other or a couple of friends, Northern Greece is the place for you as it combines some of the most magnificent beaches in all of Greece, a scenery taken from fairy tales, historical sites and attractions worth discovering, local customs and traditions that will mesmerize you and a culinary heritage to excite your senses.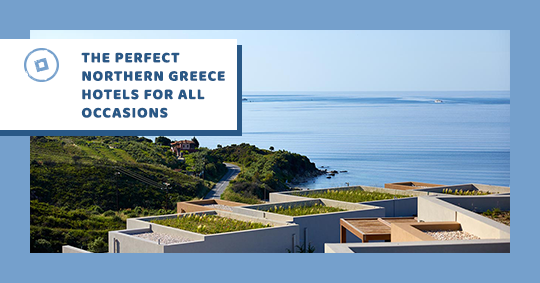 But where to stay when visiting Northern Greece? Cycladia offers you a few suggestions to make your selection according to your personal preference.

City Hotel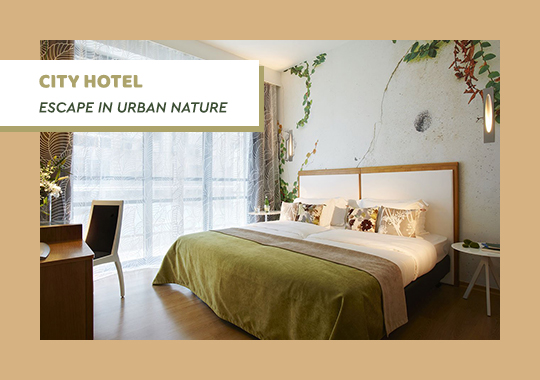 City Hotel is an urban nature city center hotel allowing you to revive your senses in its utterly refreshing ambiance. Treat your palates to an invigorating experience at the Green Bar, pump up your adrenaline at the gym and relax your muscles with a soothing massage while being only moments away from Thessaloniki's vibrant downtown.
Contact: 11 Komninon Str., Thessaloniki, tel.nr., +30 2310 269421
Website: www.cityhotel.gr

The Excelsior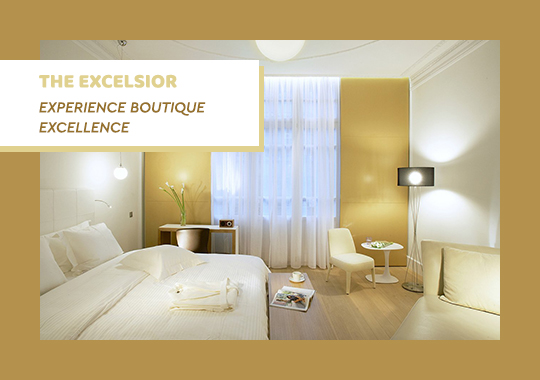 The Excelsior boutique hotel in Thessaloniki provides the ultimate feeling of elegance and hospitality in the heart of the city. Experience fine dining at its French Charlie D. Brasserie or enjoy a casual lunch at the Mezzanine lounge and continue your work out regime at the gym located at the hotel's sister property, City Hotel. The Excelsior 5-star hotel in Thessaloniki takes luxury to new heights.
Contact: 10 Komninon St. & 23 Mitropoleos Av., Thessaloniki, tel.nr., +30 2310 021 020
Website: www.excelsiorhotel.gr

Eagles Palace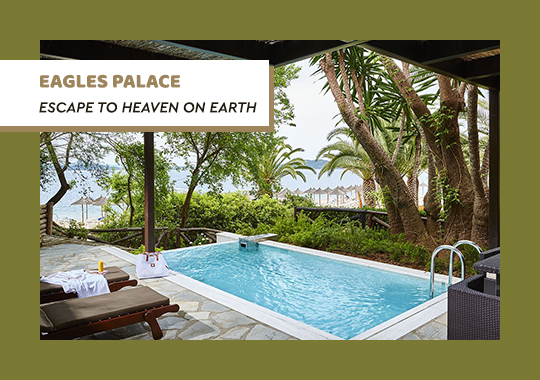 Eagles Palace Resort in Halkidiki is the ultimate destination by the sea for a family holiday, a relaxing escape or a couple's getaway. Get ready to pamper your senses with a series of spa and wellness sessions, excite your taste buds with gastronomic delights, partake in a series of adventures and get in on the action with an array of cultural, sports, leisure and private experiences. This luxury resort in Greece welcomes you to escape in your very own piece of paradise, celebrate any special occasion and be wed against the backdrop of the bedazzling sea.
Contact: Ouranoupolis Halkidiki GR 630 75, Greece, tel.nr. +30 23774 40050
Website: www.eaglespalace.gr
Eagles Villas feature a selection of luxury villas in Ouranoupoli, Halkidiki that welcome you to experience chic refinement at its finest form in a private setting by the beach. Get ready to delve into the tranquil waters of the pool in view of the mesmerizing sea, dine al fresco in elegant environs, revive your senses with spa treatments and wellness activities at the villas' sister property Eagles Palace hotel and live the life you always dreamt of.
Contact: Skala Neon Rodon, Ouranoupolis, Halkidiki, tel. nr.,  +30 2377 440050
Website: www.eaglesvillas.gr
Northern Greece is worth exploring from side to side, select the property that best meets your needs and head of to discover this fascinating part of Greece.